June 7, 2010 – 2 in 1 Keyboard / Mouse pad

Hello everyone,

Hope you slept well yesterday after a long day's work. Don't tell me! For those of you working all day at your PCs, did you wake up again with that twisted neck and back pain? Wow, I can relate too!
Sitting there all day with your back curving, your shoulders slumping, your neck dropping once to the left, once to the right…oh yes, it's not easy sitting for hours in that same position and getting up as hard as wood when it's time to leave….




Well, I had that same problem too. I followed all the advices I read about: took
5-minute breaks every hour, walked around, massaged my neck, stretched my legs and my arms… in general that's very good advice. I keep doing it, but one thing helped me a bit more to relax.

This 2 in 1 keyboard wrist recliner with mouse pad really helped. I wouldn't say it's THE miracle solution of all time—I would be exaggerating! But really, come on, who wouldn't want a gentle push, some little help to carry ourselves around during the day in a healthier perspective?? As you sit at your desktop PC, your wrists will stay up in a straight position against the bulging comfortable spongy surface, and your right hand will control the mouse when needed. Both your wrists on the recliner at the same time will force your shoulders, back, and neck into a straight position in a very effortless way.

Oh and it's not as big as you think it is! Think about it! It just needs that minimal space for maneuvering the mouse, which is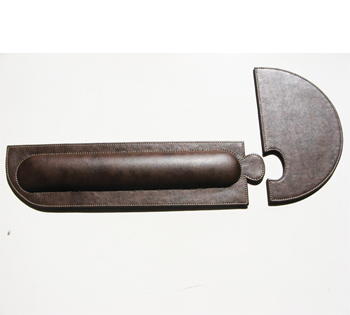 smaller than the average mouse pad. And as for the wrist recliner, we all keep that 10 cm – 15 cm space between our chest and the keyboard to rest our wrists on the desk. Well now you don't need the desk anymore, just the soft comfortable cushioning feeling.

Why don't you try it and give us your feedback? I'm sure it will make a difference. And by the way, if anyone asks you where you got it from, don't forget to mention at www.goldencrownco.com ;)

See you next time!