September 28, 2010 - How to Choose a Gift

Hello everyone,

Today we're going to discuss how to choose a gift that will be appreciated. Buying a gift is not very easy, especially if it's not something we do every day. We get lost and we start to think about what to buy and the more we think, the more we get lost! Yet, it's a matter of organizing our thoughts and making a right choice, like everything else in life. Be it a personal gift or a promotional item for your clients, we have simplified the ideas to make it easier in you.

General Ideas

1. Take some time to study the person / your clients; their tastes, hobbies, work, travel, their buying tendencies, their needs, etc. There's nothing better than a gift that fulfills a need; you would be remembered for a long time.

2. Don't buy something that would be thrown away or your recipients would be bored of in record time. That would be throwing good money away and your gift would be totally useless and discarded. Choose things that are always needed and useful in our everyday life in order to be a pleasant reminder in their lives. It could be a desk item with your company's logo on it, or a personal item (wallet, credit card holder, etc.) where they will see your company logo and be reminded of you every time they use it.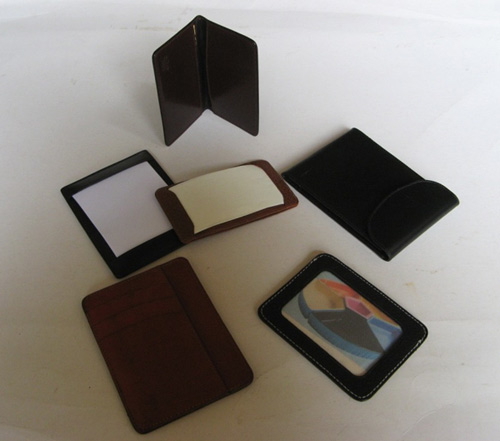 3. Who doesn't have a budget?? Who doesn't think how much he / she should pay for a gift? It's probably the first question that comes to mind. You could go for a genuine leather item if you can afford it or a synthetic leather one if you're not willing to pay much. But you should know that each has its own advantages and disadvantages, and a genuine leather gift lasts for a longer time and is cheaper on the long run. Still, that's a matter of personal taste and perception…

4. Whatever you do, never underestimate other people's tastes and intelligence. Do not give them a gift just for the sake of giving one. Let your gift reflect your feeling towards them (love, gratefulness, thoughtfulness, etc.). Giving the wrong gift can hurt your image far more than not giving a gift at all. And there's nothing worse than bad word-of-mouth. People tend to remember negative incidents more than positive ones.

5. Last but not least, keep in mind that when you give, you receive. In the very least, you receive a warm smile and a thank you. At the most, you might receive a nicer gift. In the case of promotional items, you will increase your profits, get more referrals, enhance the image of your company, and be remembered for months to come.

So hurry up and don't wait till the last minute! Call us now to receive free advice on choosing your gifts and don't forget to say you got it from www.goldencrownco.com.

See you next time!